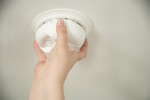 Fire station to give out free smoke detectors
FISHKILL - In preparation for Fire Prevention Week in October, Home Depot has donated smoke detectors to Rombout Fire Company. The detectors will be available to be picked up for residents of the Rombout Fire District from 7-8 p.m. Mondays beginning Oct. 1 at Rombout Fire Company, Station One, 901 Route 52.
Smoke detectors will be available to residents on a first come, first serve basis while supplies last.
Residents are reminded to change their batteries when changing their clocks back this Fall for Daylight savings time. Also if your detector is older than 8-10 years it should be replaced.
For information on smoke detectors including where to install visit US Fire administation