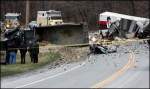 From: Poughkeepsie Journal By Christine Pizzuti (Photo from Journal)
1 killed in head-on crash; Route 9 is reopened
FISHKILL - A person driving an Utz snack foods box truck was killed in a collision with a large dump truck hauling stone on Route 9 Wednesday afternoon.
Town of Fishkill police, who were in charge of the accident scene, did not release any names, pending notification of the family.
"We believe it was a head-on," town police Sgt. John Miller said. "But the investigation is still pending."
Initially, it seems the Utz truck was traveling north, and the dump truck, from West Hook Sand & Gravel, was heading south, on the way to deliver stone to Long Island.
The two vehicles collided near Interstate 84, about a quarter mile north of the Putnam County border, Miller said.
Route 9 was closed from the time emergency officials arrived on the scene around 2 p.m., and reopened about 8:15 p.m., Miller said.
The state Department of Transportation was on the scene to clean up the gravel spill.